Apartment Living
Build to Rent Apartment Communities by LIV
At LIV, we are dedicated to providing comfortable and enriching living experiences for our residents. As part of our innovative build to rent model, we go beyond the traditional rental experience.
Our co-living apartments foster a strong sense of community by offering a range of quality amenities and activities to enhance your lifestyle. And, of course, part of that is welcoming all residents, including those with fur, feathers and fins. After all, what sort of comfort can you expect from LIV if you can't bring along your best friend?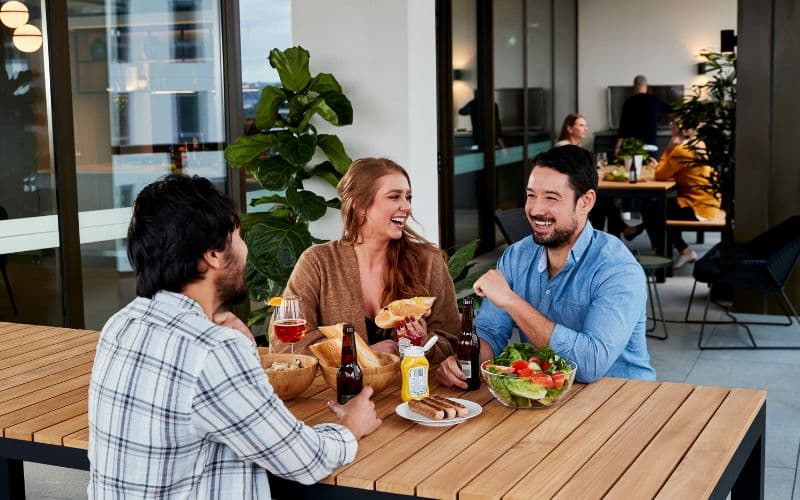 Community Apartments to Feel At Home
Unlike regular renting and apartment complexes that often lack community events or even spaces (no, that little patch of grass beside your complex doesn't count), LIV creates vibrant living environments where residents can truly feel at home. We understand the importance of connection and belonging, which is why we've built a welcoming community for all.
Enjoy a variety of community amenities and activities that turn neighbours into friends. Whether it's a communal lounge for socialising, a rooftop terrace for relaxing, or organised events and workshops, we go the extra mile to create spaces where connections can flourish. We want you to feel completely at home, both in and outside of your apartment.
Enquire now
to discover how LIV's build to rent communities can enhance your living experience.
Just Another Way LIV is More Than Renting
While community living is a cornerstone of LIV, we believe in continually improving and reimagining the traditional renting experience. Our build to rent communities are at the forefront of a new way of living, designed to prioritise your comfort, convenience, and well-being.
When you move into our co-living apartments, you can say goodbye to the limitations of pet policies commonly found in rental properties. We understand that pets are cherished members of your family, which is why we welcome them with open arms. Bring your furry friends and let them be a part of your LIV experience.
Our co-living communities also offer a range of comfort-enhancing features and services to ensure that
life at LIV
is exceptional. From thoughtfully designed living spaces and modern amenities to convenient online platforms for seamless communication and maintenance requests, every aspect of LIV has been designed to prioritise your needs and convenience.
Frequently Asked Questions About Our Community Apartments
What are community apartments?
Community apartments are a unique concept that goes beyond traditional rental properties. These apartments are specifically designed and managed to foster a strong sense of community among residents. In apartment communities, the focus is not just on individual living spaces but on creating an environment where residents can connect, socialise, and build meaningful relationships with their neighbours.
Unlike regular apartments where residents often have limited interaction with each other, co-living apartments provide shared spaces and amenities that encourage socialisation and community engagement. These spaces can include communal lounges, rooftop terraces, fitness centres, dog parks, and other common areas where residents can come together.
In addition to the physical spaces, community apartments also offer a variety of activities and events to bring residents closer. These may include social gatherings, fitness classes, workshops, movie nights, and more. The goal is to create a vibrant and inclusive community where residents can feel a sense of belonging and enjoy an enhanced living experience.
How can I get involved in community apartments?
At LIV, we believe that resident involvement is key to creating a thriving and inclusive community. We actively encourage residents to get involved and contribute to shaping their community experience, whether that be by:
Attending Social Events: LIV organises various social events throughout the year, ranging from holiday celebrations to fitness classes, workshops, and movie nights. These events provide opportunities to meet your neighbours, make new friends, and engage in shared experiences. Keep an eye on our community calendar or newsletter for upcoming events and join in the fun!
Joining Clubs or Groups: LIV supports the formation of clubs or interest groups based on residents' common hobbies, interests, or passions. Whether it's a book club, a cooking group, or a fitness club, these clubs allow like-minded individuals to connect and pursue shared activities. If you have an idea for a club or group, reach out to our community team, and they can help facilitate its formation.
Participating in Committees: LIV encourages resident involvement in community committees that focus on various aspects of community living, such as social activities, sustainability initiatives, or resident welfare. By joining a committee, you can actively contribute your ideas, voice concerns, and collaborate with fellow residents and management to improve the community experience.
Sharing Ideas and Feedback: We value your input and ideas! LIV welcomes suggestions and feedback from residents on how to enhance the community and improve the overall living experience. Feel free to share your thoughts with our community team or attend resident feedback sessions to actively contribute to the ongoing development of our community apartments.


What sort of shared spaces can I find at LIV's community apartments?

At LIV locations, you can expect to find BBQ areas, co-working spaces, commercial kitchens, dog-washing stations and much, much more. Contact us to find out more about the shared spaces and amenities available at our co-living communities.


Are LIV apartments pet friendly?

Yes! In fact, pets are so beloved at LIV, we consider them a core part of our family and community. We even offer amenities and services that cater to the needs of our four-legged residents, including designated pet areas and even dog-washing stations in some of our build to rent communities.